Sex
&

Dating
A Date in Gowanus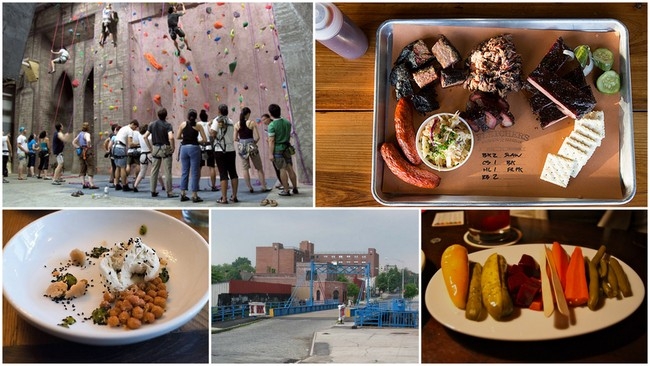 (Photo: clockwise from top left - Brooklyn Boulders, Fletcher's BBQ, Brooklyn Brine, Carroll Street Bridge, The Pines)
Movies, the fountain from which our notions of city romance springs, always make it seem as though Manhattan is the island for moonlit strolls and star-gazing, and Brooklyn is just a great place for mafia henchmen to dump bodies. But this is not so. The truth is that this borough's diverse neighborhoods, empty streets, and idle waterways lend it a great deal of romance that is often overlooked. To enlighten us all, Brooklyn Exposed presents a series of sample dates in neighborhoods whose amorous appeal is yet to be discovered.
With its romantic name that just slides off the tongue, Gowanus is the perfect place to take a date you want to impress. The neighborhood has industrial zoning, which has encouraged several artists to move to the area, and live and work in studios they've built here, and artsy-ness is always romantic. No trace of tourists, and a local Brooklyn vibe make this area ideal for a low-key, high quality date.
Where to Meet: Meet your date at a fun, and definitely unique Gowanus venue, to start the night off with entertainment and certainly provide conversation for the rest of the evening.
For an adventurous start to the date, check out Brooklyn Boulders (575 Degraw Street), which offers indoor rock-climbing for beginners and experts. For thrill-seekers, there's nothing that gets the romance going quite like adrenaline, and the knowledge that you can count on your partner to catch you if you slip.
To start your night with some flirting, meet up at Flirt Brooklyn (94 9th Street), which in addition to its cute name as a meet-up spot, offers open studio sewing and home ec classes, where the two of you can get into a domestic groove together.
For a quirky way to kick off a date, meet up at Brooklyn Brine (574 President Street), which pickles and sells a variety of artisanal pickles.
Dinner: The Pines (284 Third Avenue) put Gowanus on the Brooklyn dining map, and its seasonal fare and upscale ambience is certain to impress any date. The charming backyard offers its own woodfire menu, but for colder evenings, snuggle up and share a warm bowl of the nightly soup special or a hearty dish like homemade cavatelli with mussels and miso. This rustic, fancy restaurant prides itself on special requests, so your date will be treated like the queen or king she/he is when ordering from the customizable menu.
Fletcher's Brooklyn Barbeque can get a bit messy, but gives you the chance to tenderly wipe barbecue sauce from your date's upper lip. The menu is solidly meat-based, so don't bring your vegetarian crush here. The restaurant smokes farm-raised, all-natural, hormone-free, and antibiotic-free meats over maple and red oak, following in the American pit barbecue tradition. The menu rotates daily and the restaurant is open until animal flesh runs out. Meat is sold by the ¼ pound or by sandwich ($10) and classic BBQ sides like macaroni and cheese, cole slaw, and baked beans are also available.
And for a more ethnic meal, check out Nightingale 9 (345 Smith Street). Owned by the impressive team behind Seersucker and Smith Canteen, this Vietnamese eatery features fresh and local ingredients, prepared in an Asian-American fusion style with impressive detail paid to each dish. The hanging overhead lights and cafeteria-style tables are casual, but shared benches leave ample opportunity to get cozy while sharing shredded Hudson Valley chicken with mint and napa cabbage ($12) or a hearty bowl of hanoi-style beef pho ($14).
Dessert: Four & Twenty Blackbirds (439 3rd Avenue) pie has a long holding tradition of being a sexy food. Perhaps not in an American Pie way but, as the queen in Snow White says, "It's apple pies that make the menfolks' mouths water..." Maybe don't say that on your date, but the pies here are some of the best in NYC, and it's honestly hard not to fall in love over a perfectly crisp, sweet crust, and oozing rich filling. Menus change seasonally, and with fall options like the Chocolate Julep, Bourbon Pear Crumble, or Apple Rose, you're just asking to share and be fed by your date.
Drinks: Lavender Lake (383 Carroll Street) is all about the cocktails. Not only is its name like a super cheesy honeymoon spot, but its charming exposed brick and rustic wood interior feels like a dreamy vacation out of the city. Cocktails featuring housemade lavender syrup, Sriracha, or prosecco are all stellar, and at $11-12, ordering more than one seems pretty reasonable.
Canal Bar (270 Third Avenue) is the neighborhood dive, which can be the perfect place to chill out and chat over $4 cocktails or a pitcher of Brooklyn Blast. Its remote location ensures a steady crowd of locals, so you're pretty sure not to run into anyone who could interrupt your date.
Late Night Snack: Michael and Ping's (437 Third Avenue) offers cheap and tasty takeout Chinese food that's environmentally friendly—it was one of the first certified green restaurants in Brooklyn! Grab some fresh Shitake Bao Buns ($6.25) in recyclable carry-out containers or sit in one of the restaurant's few seats with a late night bowl of noodles or an Asian Panini.
Littleneck (288 Third Avenue) is Gowanus' New England seafood joint, made from recycled and re-purposed materials and funded by Kickstarter.
Midnight Stroll: Walk across the Carroll Street Bridge (Carroll St between Bond and Nevins Sts), which straddles the oddly romantic Gowanus Canal. The retractable passageway was built in the 1880s and perhaps is home to some local Brooklyn ghosts. Hold your date close as you take in the peaceful solitude of the area around you and enjoy the unique vantage point of a glowing Manhattan (just don't go skinny-dipping in the water).
Where to Part: End your night with a bang (the musical kind)! Plenty of warehouses and random outdoor space are prevalent in Gowanus, making for creative, lively events such as Mister Saturday Night at Gowanus Grove. The Bell House (149 7th Street) hosts a slew of popular indie musicians as well as cat painting and chili cook-off contests, and the Rock Shop (249 Fourth Avenue) is known for its fun concerts. When you're all tired out, you can call or hop into Castle Car Service (440 4th Avenue) and get a cab, whether it's just one or two...